Erica Morales and her husband Carlos had struggled for years to get pregnant and their dream came true when they finally conceived after fertility treatment.
Erica was pregnant with quadruplets (4 babies) and looking forward to being a mother at last.
Carlos and Erica met at a nightclub in Scottsdale, Arizona, in 2006. He shared their love story with People Mag
"I didn't speak any English and she didn't speak any Spanish," "But I asked her to dance and she said yes". He only found out later that Erica, a real estate agent, ended up throwing out a piece of paper he gave her that night with his number scribbled on it. But through mutual friends, they saw each other again, and this time, they didn't part ways.

He knew right away he wanted to marry her. Erica learned Spanish, Carlos learned English, and in 2007 they got married in Las Vegas.

"We also really wanted to have a baby," says Carlos. "So we started to try right away."

After experiencing a miscarriage, which Carlos says "was beyond devastating," they found out Erica was pregnant last June after undergoing fertility treatment.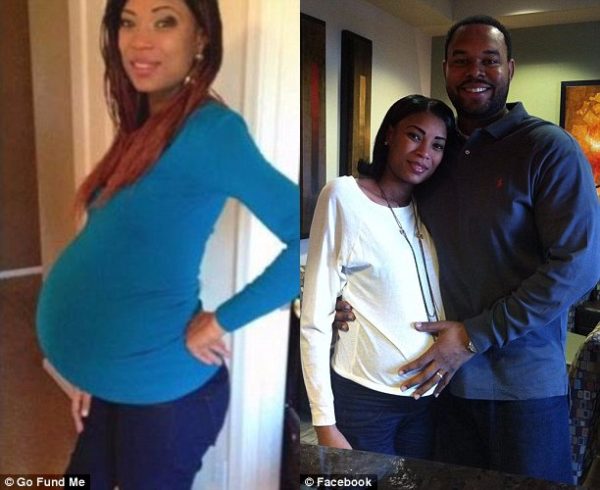 Quad Surprise
Carlos tells People;
When she went for her first sonogram, she found out she wasn't just having one baby, but four. "Her doctor told her she had to just relax," Carlos says. "So that's exactly what she did." Carlos cooked, cleaned and made sure Erica stayed off her feet. Erica's mother moved into their house to help them. Doctors closely monitored Erica, who was healthy throughout her pregnancy.
Tragically, her blood pressure became elevated to 190/90 blood pressure and she was rushed to the hospital.
"The doctor said she was having too many contractions so it was time to deliver the babies," Carlos says. "We took pictures before she went into the delivery room, made some videos, and she was surrounded by family and friends. I said to her, 'Let's get these babies out.' "

The couple also discussed names. They settled on Carlos Jr. for the boy and Tracey and Paisley for the two girls. Erica couldn't decide on the other girl's name. They thought they had plenty of time to figure it out.
Tragedy
On the 16th of January 2015, at 31 weeks pregnant, she delivered three girls and a boy at the Banner Good Samaritan Hospital in Phoenix, Arizona but hours later, Erica went into hypovolemic shock and passed away. She never got a chance to hold her babies in her arms.
Her husband and entire family fell into a state of mourning but they had to stay strong for the 4 babies (Carlos Jr, Paisley, Tracy, and Erica) who needed all their love and care.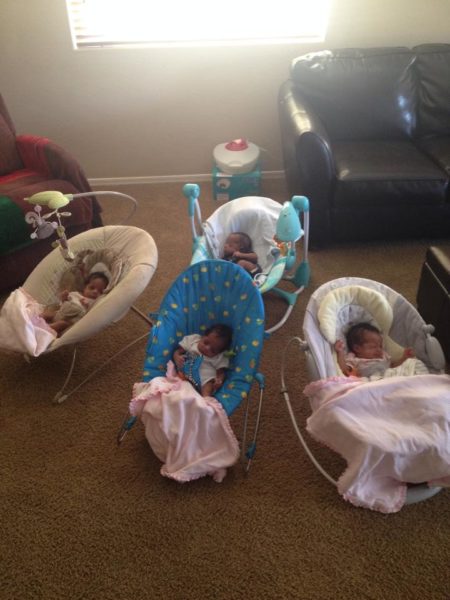 Hope
2 months later, Carlos is back home with all 4 of the quads. He is working hard to care for his children and thanks to kindhearted strangers, has received over $360,000 in donations raised via their GoFundMe page.
One of the last messages Erica posted on Facebook still inspires him.
'I always want more but sometimes you just have to sit back and thank God for blessing up to this point and put it fully in his hands. Thanks for the prayers and everything else.'
As for their plans for the future, Carlos says it is hard to say. The devout Catholic says his faith has helped him through so far. He tells People Mag;
"When I'm alone at home I still tell myself that I hope I'm dreaming…Erica was the most special person in the world and she should be here to love her babies." Just recently he found a note that she had written on her iPad. She had jotted down her dreams for her children to go to college, speak both English and Spanish and to have good jobs. He says he will try his best to make that happen.
Related posts
Subscribe
* You will receive the latest news and updates on your favorite celebrities!