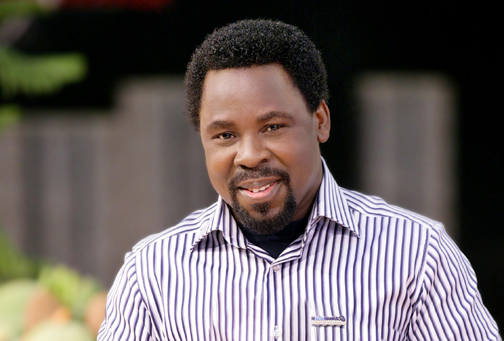 T.B Joshua of the Synagogue Church of all Nations (SCOAN) on Sunday reportedly predicted that there will be a plane crash within Nigeria. He is also said to have stated that the voting process during the 2015 elections will be plagued by deception.
Several online news sources, including Nigerian Eye, are reporting that Joshua made the statements during a church service televised live via his channel,Emmanuel TV.
"Pray for Nigeria because I am seeing a plane crash. It's not a good thing to lose personalities again," he said.
Speaking on the elections, he said, "The challenge Nigeria is facing – on the day of voting, when you drop your votes in the ballot box, you will know who is PDP and who is APC. It's a parable; very delicate. Because everybody plays a game; we deceive ourselves. 'So this man voted for this party but he's in that party."
He also reportedly stated that a dark cloud is hanging over Nigeria.
Joshua also stated that those responsible for the Synagogue building collapse in September 2014 would be brought to justice.
"There must be vengeance concerning what happened here. Both the slaves and masters must pay the price.
God gave me an order that I should continue this work – so I must do it. Nothing can separate me from the work of God but your prophet is not happy. I will be happy when vengeance comes," he stated, with a markedly stern countenance," he said.
Related posts
Subscribe
* You will receive the latest news and updates on your favorite celebrities!