Since I started writing about personal finance for the African millennial, the most frequently asked question I get is, how can I invest?
First of all, there is no one size fits all approach to investing. Everyone has different financial obligations, earning potential and risk profiles. Therefore what works for Amaka, may not necessarily work for Chichi. For example, lets say Amaka and Chichi both earn N200,000 a month. Amaka has been saving 50% of her salary for the last 3 months and decides to invest in the stock market. She buys Dangote Cement at N182 per share and in just a few months the stock price goes up to N203. She is so excited that she shares the good news with Chichi. Chichi has been looking for ways to make money, outside of her salary, so she goes ahead and invests the money she had been saving in Dangote cement.
Error! Most people tend to make the mistake of saying, "Mr. Lagbaja made this investment and made a killing, so I'll make it too". This 'me too' approach to making an investment decision is what often leads to a lot of people losing money. Let me explain why this is the wrong approach. Amaka and Chichi may earn the same monthly salary but their circumstances are different.
Amaka is 25 years old lives with her parents and has little or no obligations. If she didn't put that money in the stock market she would have spent it on clothes at L'espace. Her expenses for the month mostly comprise of fuel for her car and credit for her phone.
Equity is a relatively high-risk investment but historically it gives better returns in the long run than any other asset class and the longer her money is invested, the higher the average rate of return. Since, she has zero to no obligations and age is on her side. She can afford to take the risk of investing a huge portion of her earnings in the stock market in the long run.
Chichi on the other hand is 32 and married with 2 children under the age of 7. Her husband's income is inconsistent; therefore she has a great deal of financial responsibility. She is responsible for paying half the rent and one child's school fees. Chichi had been saving that money towards the rent and school fees but was looking for 'faster' ways to grow her money. This was a bad move because if the price of Dangote cement goes down, so will the value of her investment. Since she needed the money in the short term this was not a good investment to make for her situation.
4 steps to help pop your investing cherry!
Establish Your Investment Goals
Why are you investing? Sounds like a simple enough question but many people can't answer it because they haven't fully articulated what they want their money to do for them. Are you putting money aside towards rent? A car? Retirement? Building assets? The reason you are investing will determine what kind of asset classes you should invest in.
For example, Amaka was investing towards improving her financial future, buying stocks was an excellent option because they would appreciate in the long run, pay dividends and increase her net worth. However, Chichi was investing to be able to pay her rent and a child's school fees, which were both due in six months. This was a financial obligation that was due in the short term and required her to invest in a financial instrument that protects her principal like treasury bills, fixed deposits or fixed income products.
There are no right or wrong answers. Your investment goals should reflect your financial obligations, what you value most and what you want the money you make to be able to do for your life in general.
You Need Money to Invest
Goals are all well and good because they give you a clear sense of direction. However, don't let anyone fool you, you need money to make money but don't confuse this with waiting till you 'hit' to invest. The whole point of investing is to make sure that your tomorrow is better than your today. So, regardless of how much you earn, N50k or N500k dedicate a percentage of your income every month (10-20%) towards an investment. Cultivating this habit is the most important thing you can do with your money. Learning to spend less than you earn no matter how tight things are.
Develop an Investment Strategy
Now the sharp ones have already calculated that 10% of N50k is just N5,000. What can I invest in with N5,000? The truth is not much! However, my advice is even if you think what you have to start with is too little, begin with a savings account and start building it up. You can give yourself benchmarks For example; Seni's investment strategy could be, 'I'll put 20% of my salary in my GTB savings account and when I have as much as N200, 000 I'll put 50% in fixed deposits and use 50% to build a stock portfolio. I'll keep doing this till my fixed deposits are in the range of N1- 1.5m then I'll buy land in Awoyaya'.
Or Ebuka's investment strategy could simply be:
'FBN capital has a money market fund that I can invest N50,000 in and make monthly contributions of N10,000 a month. I'll use this as an instrument to save towards buying land in Ikorodu while I earn consistent returns on the investment'
Pick an Investment Firm
Now that you have saved up some money and have a clearer idea of what your investment goals are, you need to speak to a professional. The reality is no matter how skilled you are in your business or line of work you may not have the skill or patience required to pick the best investments. Commercial banks offer some great savings products but an investment firm gives you a wider range of investment options that include stocks, bonds, real estate and other investment opportunities.
There are over 322 broker dealers on the Nigerian stock exchange but every week the NSE publishes a list of the top ten brokers by value and volume in Business Day.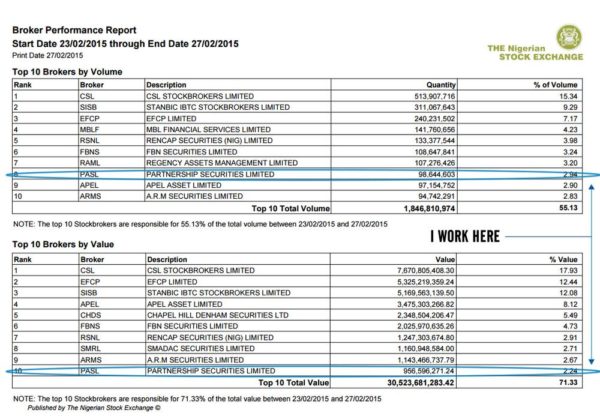 This means that they are the top players in the market, which means they have the highest volume and value of transactions on the stock exchange. In my own opinion, this is the best place to start because these firms all have investment management arms and offer products with competitive returns.
You want to sit down with an investment adviser and discuss those goals and financial obligations you've mapped out so that they can match your goals with the investment products or asset classes best suited to your lifestyle. For example Lanre's Long term goal is to build a house in Aja (5-10yrs) and his financial obligations include paying his children's school fees and rent, so he would want an investment adviser to match his goals with products and asset classes that will help him reach his goals.
Even though they are professionals, don't let them dismiss your concerns or questions. Whether you are investing N100k or N1m, 'na your money'! You should ask about the following:
Investment strategy: what will they be investing your money in? stocks? Bonds? Real estate? How diversified is the investment? What is the asset allocation mix? ( i.e. the product invests in stocks, bonds, real estate and treasury bills, 20:20:40:20)
Risk: talk to them about how much risk you are willing to take on. With some investments there is a possibility of losing a portion of your principal investment and although the returns on these types of investments attract better returns, ask yourself if your lifestyle would change if the value of your principal investment went down. This would determine how much risk appetite you have.
Profitability: what are your expected returns on the investment? Are the returns guaranteed or is there a possibility of a reduction if the market conditions change?
Liquidity: how much access do you have to the money invested? So if you decided to liquidate the investment prematurely, will there be any penalties? If so how much?
Typically Nigerians are always looking for the next big thing. Investing to become rich automatically translates to that big opportunity that will help you 'hit'. So instead of making investing regularly a lifestyle choice they overspend and procrastinate. Listen!!! Investing is not magic and the reality is, even for the 'super rich' those phenomenal opportunities are few and far between. To accumulate wealth there are no legal 'get rich quick' schemes, there is only, spend less than you earn and invest the rest. Find a system that works for you, its not important how much you earn when you start out, its important that you are constantly making progress.