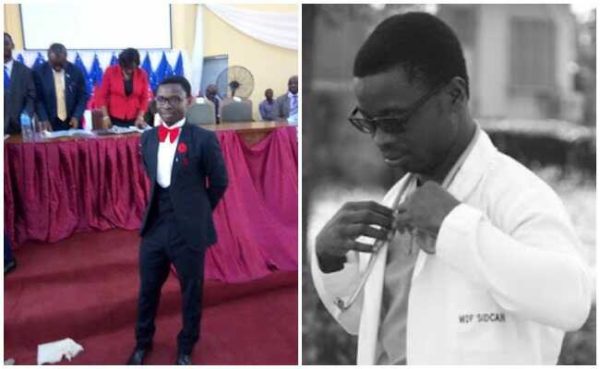 Saheed Alabi graduated from Olabisi Onabanjo University, OOU, as the overall best medical student, in spite of his humble background as the son of a butcher father and a mother who sells herbs.
In an Interview with LIB he shared what his journey was like and his plans for the future. He spoke on the journey to where he is now, he revealed that it was both smooth and rough, however, he said he does not regret the rough patches because, without them, one would not learn all they need to learn in life.
He said:
"For me, my rough patch was getting into medical school. Sometimes, money becomes an issue and you have to struggle, then hopefully scholarship comes through which you get some funds to augment what you have. The federal government scholarship was so helpful and also MTN foundation. I got the MTN foundation sponsorship just once due to the problems within my school."

"Within the terms of agreement, the school was to forward my result every session, but the school defaulted when in the second year so I couldn't continue on the Fund. I got the MTN fund for one year and the Federal government sponsored me for 5 years."
Saheed already got a first degree in Science lab technology from Yabatech. After his first degree, he still nursed the dream of becoming a doctor, so he applied at the University of Ibadan and was offered Zoology instead of medicine. He did that for one year then left, retook JAMB exam before he finally got admitted into OOU to study his dream course.
He said:
"It took me eight years to study medicine due to strike; internal strike, NMA strike, ASUU strike… all of them will affect us as clinical students. If there's no hospital, there's no teaching laboratory, because the laboratory of medical students is the teaching hospital. So when the hospital is on strike that means there are no patients to teach medical students"
When asked whether he would have coped on just his parent's income, without the funding he received, Saheed explained that it would definitely have been tougher, considering the cost of most medical textbooks. However, he explained that his parents still did their best and went above and beyond for him and his other three siblings.
He continued:
"My mum most especially has been very very supportive, but without the government funding, it would not have been so smooth as I had it. Most people did not know who my parents are or what they do because I was able to meet up with my peers, carried all the textbooks my colleagues had, I didn't really suffer much due to the funding, both from home and from the board."
Saheed agreed that he did not read the most, but that he succeeded by observing himself to know what worked best for him and he followed that formula to get to where he is today. He also said his lecturers and mentors had a huge part to play in who he has become today.
Saheed hopes to travel abroad and further his education, then return to Nigeria to impact his community. He said he is still trying to decide between becoming an academic or going the clinical way. He revealed that he'd love to do both, but has been told one will suffer. He, however, is bent on making the effort and watching to see how it goes.
Related posts
Subscribe
* You will receive the latest news and updates on your favorite celebrities!