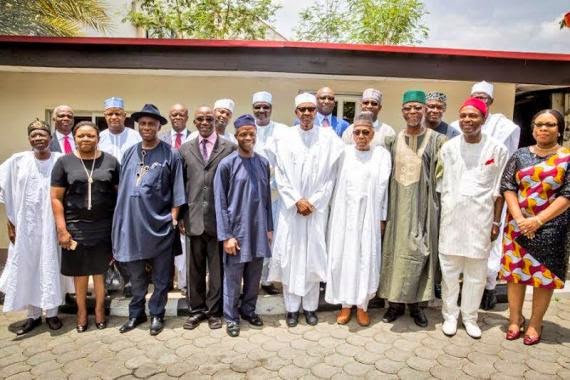 Muhammadu Buhari on Wednesday inaugurated a 19-member Transition committee in Abuja  to ensure a smooth transfer of power.
APC National Publicity Secretary Lai Mohammed revealed information about the committee via a statement. Here's a summary, as reported by Premium Times:
The terms of reference of the committee includes to develop a clear framework for liaison with the out-going Administration for the purposes of a smooth hand-over/take-over and to receive hand-over documents from Ministries, Departments and Agencies and itemise the most important or most urgent issues confronting the in-coming government.

The committee is also saddled with reviewing and making preliminary assessment of the balance sheet of government with particular emphasis on the status of assets and liabilities of government; cash flow position of the government; quantum of public domestic and external debt of government and their deployment; government's out-standing contractual obligations and its ability to meet such obligations and the status of implementation of capital projects.

The committee is also expected to undertake a preliminary assessment of the security challenges facing the country and the counter-insurgency measures taken by the government thus far; the counter policy measures being implemented in the Niger Delta to deal with unrest and major economic crimes in the area.

The committee will assess in particular, the status of the Amnesty Programme, the readiness of the Police and other national security and intelligence agencies in addressing threats to law and order and provide a brief over-view of CBN, NNPC, NCC, Customs and FIRS.

Other terms of reference of the committee include to suggest "quick fixes" which will result in tangible, visible and practical measures so that "change" will be seen after 30 days, after 100 days, after 6 months of the Administration taking office.

The committee will also make any other observations which in its view would be helpful to the transition and take-off of the new Administration.

The committee has two weeks to conclude its work.
Here is a full list of Transition Committee members:
1. Ahmed Joda – Chairman
2. Doyin Salami – Vice-Chairman
3. Boss Mustapha
4. Muhammad Hayatuddin
5. Abubakar Malami
6. Lawal Jafaru Isa
7. Hadi Sirika
8. Audu Ogbeh
9. Dalong
10. Bola Adesola
11. Wale Edun
12. Nike Aboderin
13. Ogbonnaya Onu
14. Festus Odimegwu
15. John Oyegun
16. Gov. Rotimi Amaechi
17. Tam David West
18. Lai Mohammed
19 Adamu Adamu – Secretary
Here are additional photos from the inauguration: