2015: El-Rufai Exposes Scandalous Leaked Document Of PDP's Plan B
Pringuus, 5 years ago
0
2 min

read
89
The All Progressives Congress (APC) governorship candidate for Kaduna State, Nasir El-Rufai, December 24 posted an exposing document on the alleged Peoples Democratic Party (PDP) "Plan B", apparently, in case of failure in the February polls.
It is not clear however where the paper was obtained from. It contains neither dates, nor signatures hinting on the origin of the "document" containing 11 steps.
The politician shared the photo of the paper and tweeted:
"This extract from Jonathanians' 2015 Election Plan B is on social media. Read what the evil shoeless ones are up to!"
See the transcript (unchanged) below:
[illegible] Elections
1. Freeze political activities in order to defeat Boko Haram and restore peace and security especially in Borno and Yobe states.
With Elections
2. Use third force to paralyse opponents and with elections
3. Let Borno and Yobe – [illegible] to PD retain Borno and get soft landing for Yobe including Bauchi
4. Increase act of Boko Haram in A;B & Yobe and harassment of Emirs and District head loyal go Governors
5. Attack police and Military barracks as per third force edge
6. Decrease financial position of Governors of A, Borno & Yobe or impeach them through simple majority in line with non compliance of Governors
7. Refuse elections to give PDP simple majority in terms 25% to Mr. "P" through Ali Modu Sheriff and other friends
8. Ensure adequate empowerment of PDP candidates
9. Freezing all aids to APC governors in North East
10. Allocation of more money to PDP states decline to APC governors
11. Disallow both governor and cause political unrest i.e ethnic of Boko Haram or third force i.e, Kano, Yobe, Borno, Adamawa, Niger inclusive depending on peace in Nasarawa.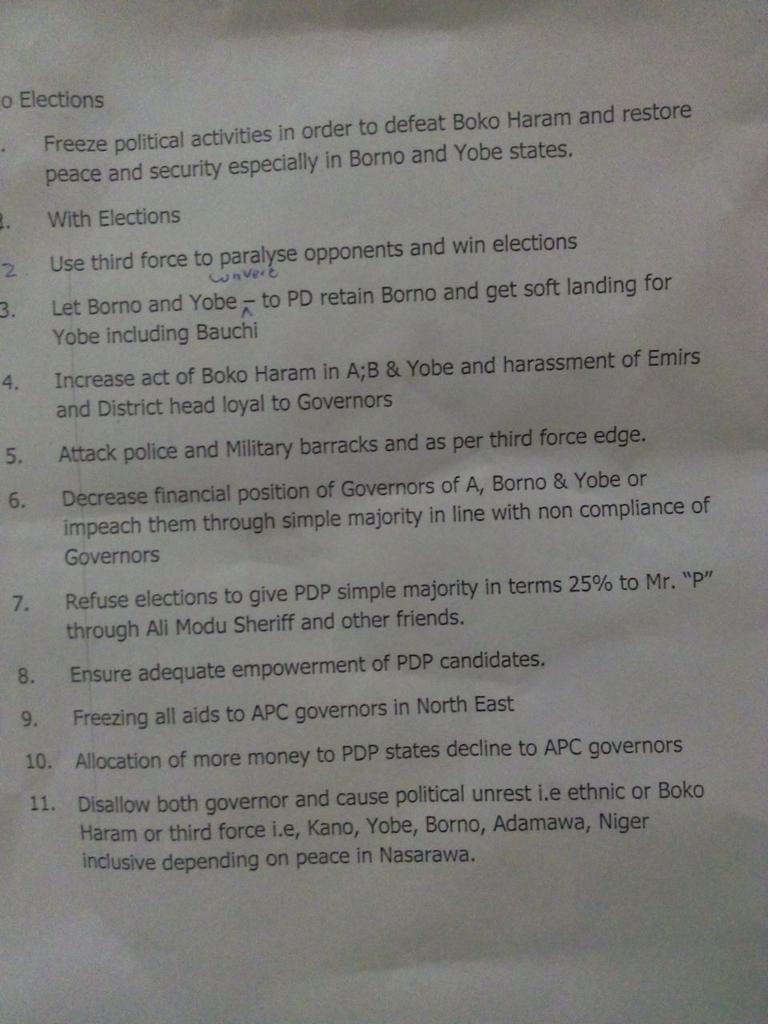 The original of the tweet can be seen below:
This extract from Jonathanians' 2015 Election Plan B is on social media. Read what the evil shoeless ones are up to!

Kaduna, Nigeria, Nigeria
It would be recalled that El-Rufai, who has been on several occasions involved in the war of words with the Presidency, earlier today accused Goodluck Jonathan of having broken "the law in all ways to raise his 21 billion naira". The said sum was gathered during the Fund Raising Dinner.
El-Rufai stated on Facebook:
"Section 91(9) of the Electoral Act reads, 'An individual or other entity shall not donate more than N1,000,000 (one million naira) to any candidate.'"
Related posts
Subscribe
* You will receive the latest news and updates on your favorite celebrities!